I feel like a whole new person!! I am sure you have noticed the
new look
of my blog. I was so lucky to have found
Melissa with Crafty Lil' Fox.
She has totally revamped my blog, and I think it looks amazing. the blog now has pages to find things better. The colors are so light and fresh, I am so excited! I wish I could say that I helped come up with the ideas of how the blog turned out, but I can't. I owe all the credit to Melissa for doing such a fabulous job. She really pinned me to a T, with my style!
If you stop by the
Crafty Lil' Fox blog
, you will find some great tutorials, freebies, look through Melissa's portfolio, and so much more. Don't forget to stop by and favorite her on
Here is a little bit about Melissa in her own words -
I'm a craft addict, web designer, copywriter and world traveller! I started Crafty Lil Fox to share tips and hints for selling online, marketing small and home based business online, using creative blog designs and successfully building craft and handmade businesses. When I'm not creating beautiful blogs, my favourite crafts are crochet and sewing and I'm a bit obsessed with beautiful homes.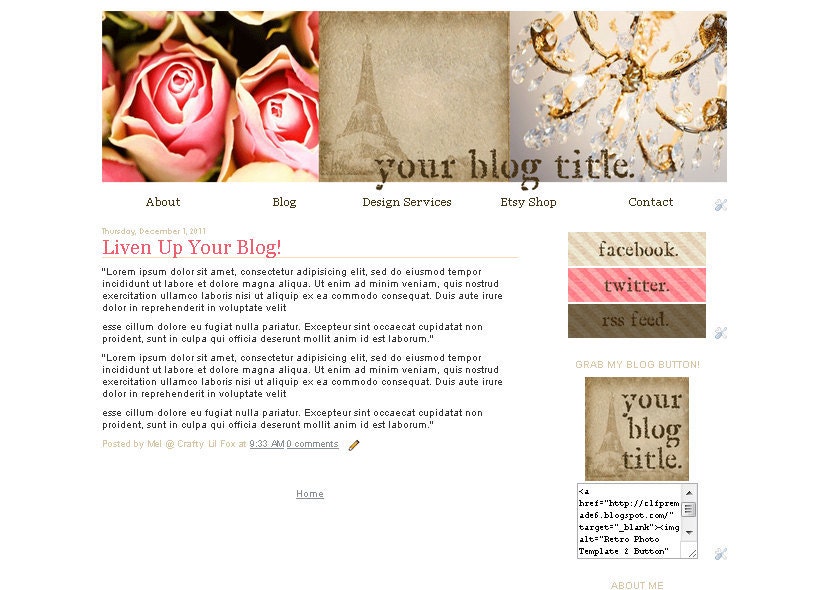 I am so excited to tell you that you can have a great blog too! Melissa is offering all of my readers
$50 off any custom blog design and 25% off of any orders from her Etsy shop
. You just need to mention that you saw the offer on my blog.
Everyone is a winner
with this one! This offer will last through the rest of December and all of January.